Protecting against invasive species

Invasive species
Invasive species represent a major environmental challenge, including (it has been argued) as the greatest threat to the biodiversity of island ecosystems. In addition, the substantial economic and human costs of managing invasive species and their impacts are increasingly clear. Difficulties in funding long-term programmes, particularly in support of measures such as biosecurity, which could vastly reduce long-term costs by preventing species introductions (and the need to manage the spread and impacts of invasive species, once they are established) remains a significant obstacle in the UKOT and CDs. Nonetheless, valuable work is being undertaken at a local and cross-Territory level.
In 2006 a review was conducted which identified a number of challenges for each of the UKOTs. This review was the first of its kind for the UKOTs and formed the basis of many projects going forward. 
One subsequent project coordinated by CABI and funded by Defra, resulted in the creation of an identification service for invasive invertebrate plant pests for all the UKOTs by the Plant Pests and Diseases Programme at the Food and Environment Research Agency (Fera). Initially, the project looked at 128 species of invertebrates (more than 1,500 individual organisms) and found: 
Three species which appeared to be new to science
19 species reported as new to the UKOTs
On two occasions rapid emergency assistance was provided in the form of identifications and technical advice following biosecurity threats in Tristan da Cuhna and the Falkland Islands
Over the last decade or so, many projects have tackled this issue some with astounding success. It would be difficult to list them all, but here we provide some in celebration of work by conservation practitioners in the UKOTs and CDs as presented at our conferences.  
South Atlantic Invasive Species Project
The project enabled regional cooperation between five UK Overseas Territory governments and two NGOs, across the half a billion square miles of the South Atlantic. Early planning with local stakeholder workshops educed priority actions. Funding was provided by the the European Development Fund (EDF). Implementation of activities has been guided by the input of local steering groups, conservation organisations (such as the RSPB) and advisory bodies in the UK. Additionally, a worldwide e-network has been established for exchange of ideas, information and advice. Representatives of this wider group and partner organisations constitute a regional steering group which consider invasive species which have a common theme across the region. On both Ascension and St Helena Islands, significant gaps in quantitative baseline data were highlighted as detrimental to the planning of invasive alien species management. To begin to address this, botanical surveys of both islands were completed with support from Royal Botanic Gardens, Kew. The outputs from this considerable dataset are now informing decisions on island in the management of invasive species and beyond. 
In 2018, CABI will begin a project to improve biosecurity in islands of the South Atlantic. For more information visit their website.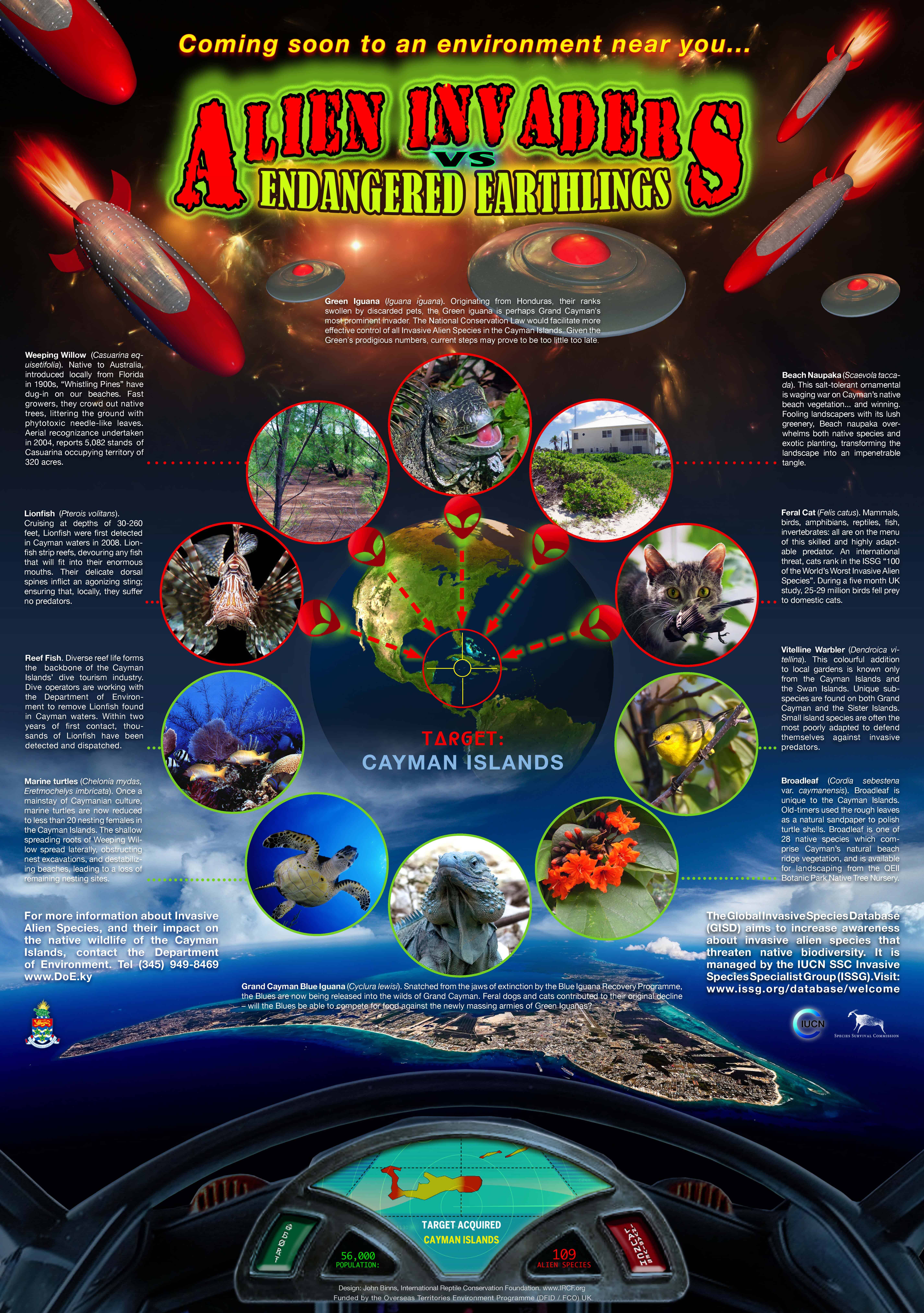 Caicos Pine Recovery Project
This project aimed to safeguard the future of the Turks and Caicos pine Pinus caribaea variety bahamensis, which suffered over 90% mortality in the Turks & Caicos Islands since the introduction of an invasive North American plant pest, the pine tortoise scale Toumeylla parvicornis. The Recovery Project, now managed by the Turks & Caicos Department for Environment and Maritime Affairs (DEMA), in collaboration with the Royal Botanic Gardens, Kew aims to create an ex-situ conservation population of Caicos pines while documenting the extent of the damage to wild populations. The project aimed to establish an international working group, investigate the historic extent of pine-yard habitat and its fire-dynamics, and establish reintroduction areas.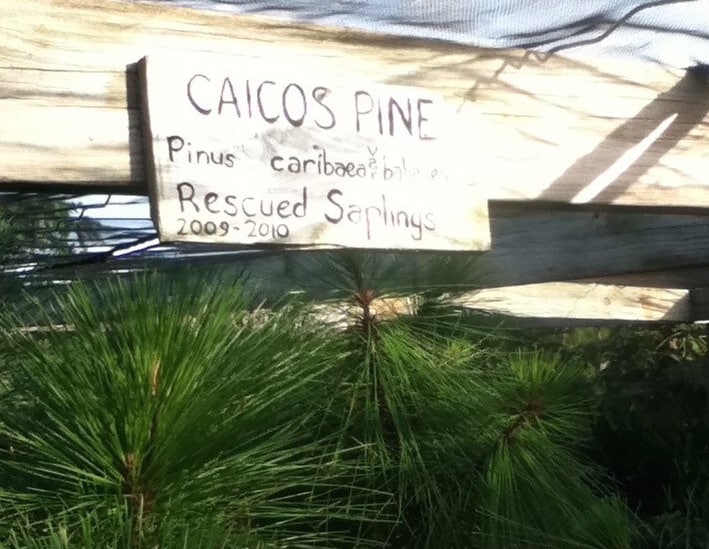 Rat eradication on South Georgia 
Rodents are among the most damaging of all animals introduced by humans to vulnerable island ecosystems, and consequently have been the target of many eradication attempts. As the size of islands successfully freed of rodents increased from hectares to square kilometres, even huge, remote islands like Campbell (113 sq km) and Macquarie (128 sq km) have been tackled, but only Governments are normally prepared to accept the risk and cost of such challenging field operations.
Almost a decade ago, a small Scottish charity undertook to eradicate rats from South Georgia, an island 33 times larger than any previously tackled. The plan was bold and ambitious. The South Georgia Heritage Trust (SGHT) had no previous experience of eradications, but a determination to find the resources and expertise to prevail. In partnership with the University of Dundee, and after assembling an international team of fieldworkers and buying helicopters, SGHT's project commenced fieldwork in 2011 following several years of planning and preparation. Sub-Antarctic South Georgia is riven by glaciers which form impenetrable barriers to rodents, so the operation could crucially be divided into three phases, each separated by two years to allow time to raise money for the next field season and to improve techniques by learning from experience. The final area of land was treated in late March 2015. A survey is to be conducted in three years to determine if the operation has been successful, but encouragement is provided by the fact that the Phase 1 area (128 km2) now appears to be free of rodents.
The South Georgia baiting work demonstrates that even large-scale pest eradications are within the capability of NGOs with vision and determination. This offers real hope for hundreds of island ecosystems damaged by invasive species worldwide. After 2 years without signs of rodents on South Georgia, as is internationally recognised as the minimum requirement, in May 2018, it was declared rodent free. A fantastic achievement. 
Plans to restore Gough Islands in the Tristan da Cunha group are now underway with the Tristan Government partnering with international NGO, the RSPB. 
Lionfish in the Caribbean 
Thought to have been introduced from private collections in the Florida area during the last 20 years, the lionfish, originally a Indo-Pacific species has spread across the Caribbean at an alarming rate. Due to several features of this species, such as the ability of its larvae to disperse over large areas, and it has no natural predators in the region, means that it has proliferated. It has a verocious appetite and is able to survive at depths. 
Several initiatives are being undertaken to control the loofahs given that a total eradication now seems unlikely. For example in Bermuda a Lionfish Task Force has been set up, which aims to "raise public awareness of the lionfish invasion in Bermuda and to coordinate and support all activities to control lionfish population growth, thus reducing any negative impacts of the lionfish on our coral reefs, for the benefit of all Bermudians". In the Turks and Caicos Islands, local NGO, the Turks and Caicos Reef Fund organises an annual Lionfish Derby, supported by local businesses it offers over $4,500 in cash prizes including for the most lionfish caught ($1000 for 1st, $500 for 2nd, $250 for 3rd). A cookbook has been published by REEF aimed at the diving community. Local restaurants in many of the Caribbean UKOTs are being encouraged to use lionfish on their menu.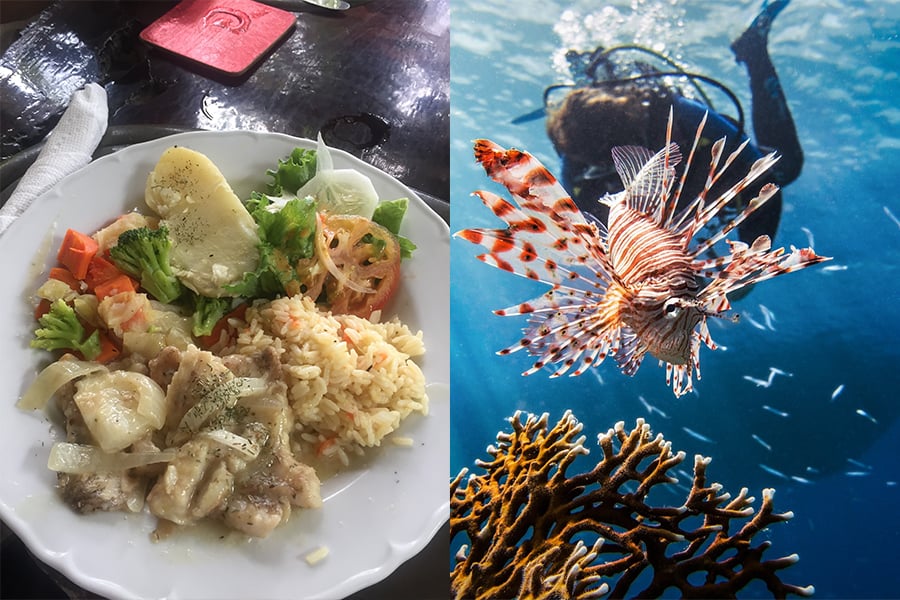 Mapping Japanese knotweed in Jersey
In 2013, the Jersey Environment Department initiated a project to gather data on the locations of Japanese knotweed. This plant was selected as a good target species due to its relative ease in identification, its high profile and the threat it poses to Jersey's infrastructure and biodiversity. By downloading a phone app designed by Plant Tracker, people in Jersey have been engaged via the media and the government website and asked to photograph then email any sightings of this plant to the plant tracker website. These sightings are then downloaded by DoE from the plant tracker website and the locations, together with any information are recorded on a GIS layer. They are then ground truthed by staff (and by a local company who have applied for funding through an Agri-environment scheme). All records have been verified and added to historic records held at the Environment Department which has led to an increase in records from 50 to 120.
After the records are verified the project assigned criteria to all patches of Japanese knotweed including proximity to water courses and roadsides which prioritised their management identified land ownership details and calculated the known infested area and costs of control.