Capacity building is an essential part of our work. The UKOTs have small population sizes, which means that, often, highly specialized personnel may not be available locally.
The UKOTs are ineligible for many international funds such as the Global Environment Facility Trust Fund. Yet, many UK funders also exclude them on the grounds that work will take place "overseas". Apart from those residing in the Cyprus Sovereign Bases, all citizens of the UKOTs were granted full British citizenship by the British Overseas Territories Act 2002, and are consequently citizens of the European Union.
In order to carry out new and innovative work, specialists from outside a UKOT may be needed in order to provide technical assistance. To ensure the experience and skills are passed on to local work partners, they work together to ensure that the best possible local information is utilized and that capacity is raise for future work.
UKOTs are able to make the best use of emerging technologies and innovative tools, for example drones, and remote sensing in their work to conserve their biodiversity.  We are trying to ensure that they have opportunities to learn about these, e.g. via conferences, Working Groups etc. 
By enabling the strengthening of skills and access to increased resources, we aim to ensure that partners in the UKOTs are well equipped to run themselves and, when requests for assistance are made, we endeavour to provide the necessary support.
Often, raising the capacity of our partner organisations forms a large part of our project work and is integrated into project design from the outset.  
Project Development and Funding Applications
Over the years, many project applications have been developed and submitted in close coordination with partners in the UKOTs.
The approach we take is usually that we would carry out administrative and management tasks, and coordinate activities of local and outside partners, so that our local partners can focus on community-engagement to progress on-the-ground objectives. In this way, local bodies are visible in the territory and take credit for implementing the project. Partners recognise and publicly acknowledge that this role enables them to take on new tasks/initiatives when human resources are low.
Successful bids have included (but not limited to): Wonderful Water project in Turks and Caicos funded by the UK Government's Overseas Territories Environment Programme (OTEP) and using results development of a Model garden showcasing rainwater harvesting and use of traditional plants in landscaping and food production funded by the Royal Bank of Canada; Maximising long term survival prospects if Montserrat's endemic species and ecosystem services funded by UK Government's Darwin Plus.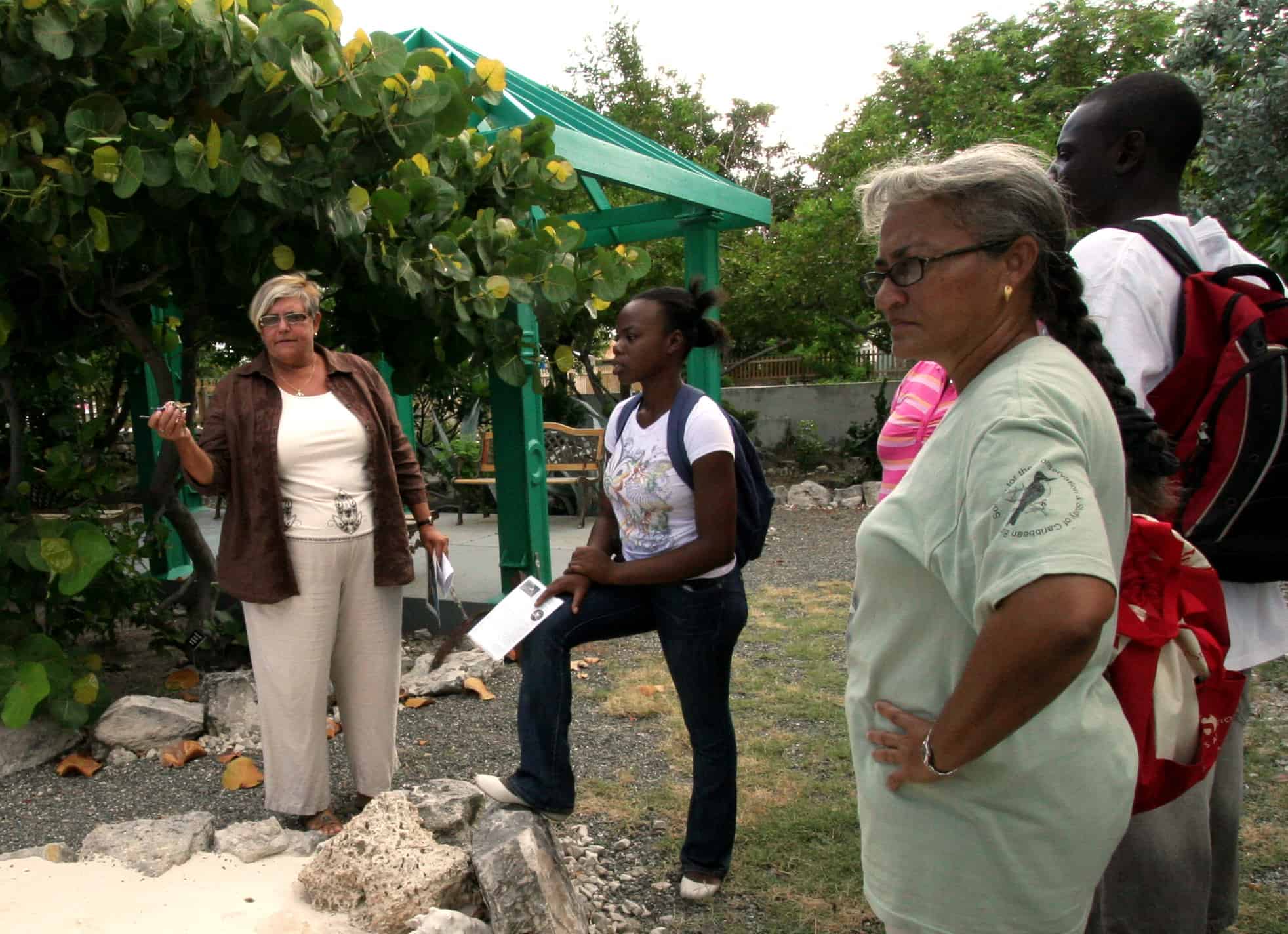 Additional training alongside conferences 
Several conservation practitioners from the UKOTs have participated in training with UK bodies when they have travelled to and from our conferences. This approach makes use also of our wide network in the UK. Recently, the Turks and Caicos Islands Department of Environment and Coastal Resources officer was able to visit the Royal Botanic Gardens, Kew when travelling through London for our Gibraltar conference.
In addition, Isabel Peters, Environmental Assessment and Advocacy Division Manager for St Helena's Environment & Natural Resources Directorate, took part in several 'exposure placements' in Jersey and the UK. In Jersey's Environmental & Planning Department, she looked at managing protected areas and the impact of ecologies in planning and waste management. In doing this, she saw much of Jersey's landscape. Isabel spoke of the benefits of her visit: "I was interested in the close working relationship with Ministers and the Policy Department. They support each other, and Ministers are very aware of the section's issues, successes and progress. Senior Management held weekly meetings with their Minister and this is something replicated here with our Island's Councillors."
Isabel travelled throughout the UK to attend her various placements with consultancy firm WYG. She visited Leeds Bradford Airport, meeting with its environmental manager and discussing similarities between Leeds Airport's environmental risks, translocation and air pollution issues, as compared with St Helena Airport.
WYG is located around the UK, so Isabel spent time in Cumbria's Lake District meeting with its Ecologist, in the Leicester Office working with its Environmental Impact Assessment Team, ending her placement in Southampton.
As a result of the Gibraltar conference, a succulent specialist from the Alamada botanic gardens went out to the British Virgin Islands to provide training to staff at the botanic garden on their collection. 
Volunteers
We have, throughout much of our existence, organised volunteer support to help train and build the capacity of local partners, or provide skills which they need only infrequently, so that it would be inefficient to train local personnel. In the early years, these tended to be our personnel or those of member organisations – and indeed this continues. Increasingly, however, we have been able to recruit other volunteers for particular roles. Rather than volume volunteering, which several other organisations have made a success, UKOTCF is focused on tailoring volunteer resources to the particular needs identified in territory.
Accordingly, our volunteers have tended to be trained or experienced specialists, although this could be in other supporting needs (in one case building renovation) and not necessarily in ecology or conservation. Our volunteers have been of all ages, but probably peaking in two categories: graduates of first or higher degrees, who want a short career break and/or additional experience; and persons much later in their career or retired, wishing to take a break and make good use of their experience and expertise at that stage.
In October 2014, Felix Driver sailed from Cape Town on RMS St Helena to volunteer with the St Helena National Trust for nine months. After graduating from Writtle College (University of Essex) with BSc in Environmental Conservation, he began working in order to self-funded his travel. This is the third overseas territory he has visited following a sailing adventure in Pitcairn in 2011, where he had first met UKOTCF personnel, and survey work in Cyprus Sovereign Base Areas in summer 2012, organised via UKOTCF. He wrote an article detailing his travels in our Forum News, issue 43, page 18.
Duncan, Sally and Fraser Hutt have worked on several projects. Duncan is the Head of Land Management at the Northumberland Wildlife Trust. Recently, he has been using his skills in remote sensing and GIS to work with UKOTCF and Montserrat National Trust on some mapping work.
Often volunteers wishing to support conservation work in the UKOTs contact us. Some opportunities will be detailed on our volunteer with us page.
We have also been able to partner with several recent graduates looking for experience in working for a conservation body.  These opportunities will also be on our Work with us section.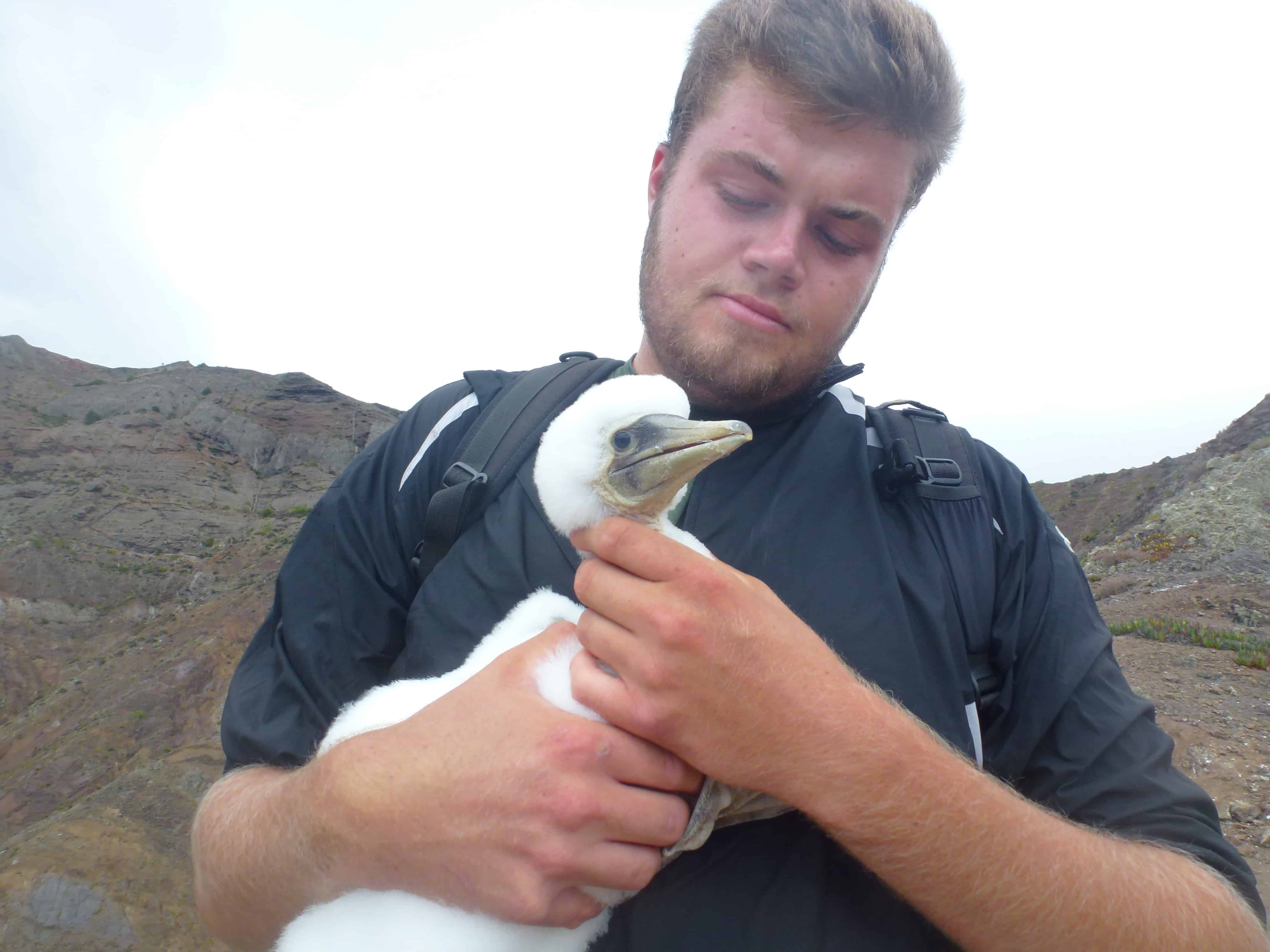 Mentoring
Personnel have often been called upon to provide some advice and expertise to members and associate organisations. For example, in 2016, our Chairman was invited to give a presentation to the Montserrat National Trust Board using experience of the running of UKOTCF.
During project work, personnel have mentored young conservation practitioners on various aspects, including bird identification, time management, reporting etc, as well as offering encouragement and opportunities for them to be involved. We aim to ensure that this is always an element of project work, as its success has been measured in the long-term involvement of emerging conservationists across the territories. Recently, we created opportunities for a young field worker, part of the Government of Montserrat's Youth Programme, to join two trips with highly skilled ecologists/entomologists to become involved in two pieces of work on Montserrat. This was of mutual benefit given the young field workers local knowledge and the technical expertise of the visiting scientists.  
Training and Seminars
We often provide training opportunities. Our Seminars and Training section outlines some of our past activities.
Materials
In order to carry out tasks, it is sometimes necessary to find resources for materials and equipment.
Some ways in which it is easy to support capacity building can be found on our Appeals page.